The City of Austin is making progress on design plans for a brand-new bicycle and pedestrian bridge over the eastern edge of Lady Bird Lake. Now it's time for the public to weigh in on whether the project's design is on track.
Austin Public Works' New Longhorn Dam Bridge 30% Design Virtual Open House, launched today, reveals updated plans for the new bridge's overall design and amenities. The open house focuses on three key project areas: the bridge and its plaza, a new underpass under Pleasant Valley Road, and parkland improvements near Canterbury Street.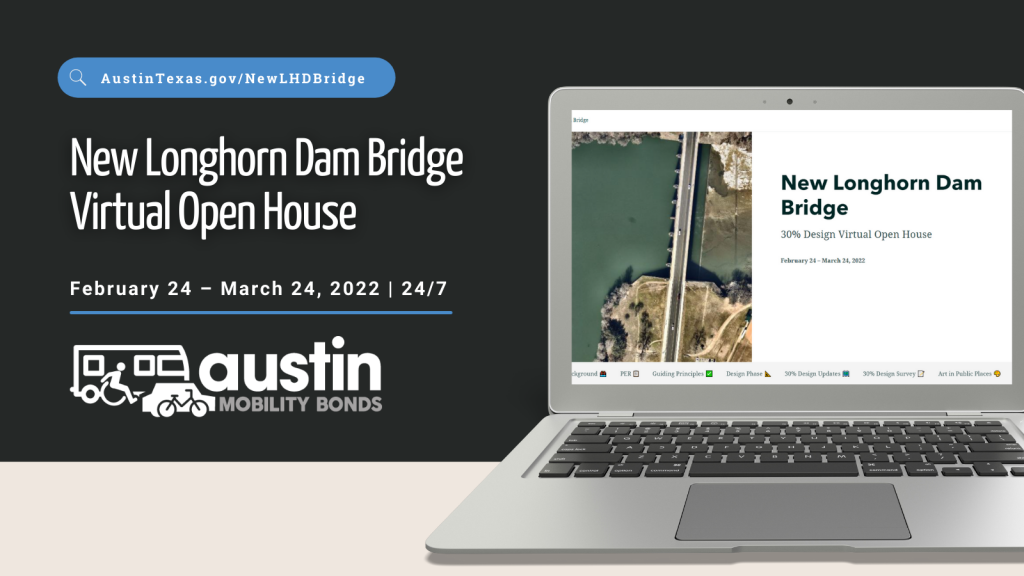 The open house is available in English and Spanish 24 hours a day, seven days a week through March 24, 2022. Surveys in English and Spanish inviting feedback on the updated bridge design are included as part of the online open house.
"I look forward to the improved park and trail access this project will bring for those of us living east of I-35." said Council Member Sabino "Pio" Renteria, "Our residents need more places to walk and bike safely as Austin continues to grow, and I'm pleased to see this project progressing."
Another new element of the New Longhorn Dam Bridge project: public art. Austin's Art in Public Places program (AIPP) will gather community input on a vision for site-specific art for the project at a virtual public meeting on Wednesday, March 9 at 5:30 p.m. Meeting attendees will help define artwork inspiration and goals that will inform the artist selection process.
"This project presents a unique opportunity to create a new Austin landmark that will be enjoyed for generations to come," Assistant City Manager Gina Fiandaca, who oversees the City's Mobility Outcome, said. "It's important to us to hear from the public at this point to ensure we're on course to deliver the best project possible."
Plans for a new, car-free crossing over the eastern side of Lady Bird Lake have been years in the making. A "wishbone" bridge design, connecting to the shore at three points, was overwhelmingly favored during a public input process held in 2019. The City published a Preliminary Engineering Report for the wishbone-shaped bridge in 2020. Later that year, Austin voters approved $15 million in funding for the bridge project as part of the 2020 Mobility Bond. Since then, Austin Public Works' Urban Trails Program has led the project's design phase.
Residents can learn more and subscribe for project updates at the project website: AustinTexas.gov/NewLHDBridge.
---
El Programa de Senderos Urbanos de Austin lanza sesión en línea de puertas abiertas para un nuevo puente peatonal y ciclovía
Austin, TX - La Ciudad de Austin está avanzando con el diseño de los planos de un puente para peatones y bicicletas totalmente nuevo sobre el extremo este del lago Lady Bird. Ahora es el momento de que usted opine si el diseño del proyecto está bien encaminado.
La sesión virtual de puertas abiertas sobre el 30% del diseño del nuevo puente de la represa Longhorn de Obras Públicas de Austin, iniciada el día de hoy, revela planos actualizados para las instalaciones y diseño general del nuevo puente. La sesión de puertas abiertas se enfoca en tres áreas clave del proyecto: el puente y su plaza, un nuevo paso a desnivel debajo de Pleasant Valley Road y mejoras en las áreas verdes cerca de la calle Canterbury.
La sesión de puertas abiertas estará disponible en inglés y español las 24 horas del día, los siete días de la semana, hasta el 24 de marzo de 2022. Como parte de la sesión de puertas abiertas en línea, se incluyen encuestas en inglés y en español invitando a compartir opiniones sobre el diseño actualizado del puente.
"Espero con ansias el parque y el sendero de acceso mejorados que traerá este proyecto para los que vivimos al este de la I-35", dijo el concejal Sabino "Pio" Renteria, "nuestros residentes necesitan más lugares donde caminar y montar bicicleta en forma segura a medida que Austin sigue creciendo, y me complace ver el avance de este proyecto". 
Otro elemento reciente del proyecto del nuevo puente de la represa Longhorn: arte público. El Programa de Arte en Lugares Públicos (AIPP, por sus siglas en inglés) de Austin recogerá comentarios de la comunidad para la visión sobre el arte específico para el lugar en una asamblea pública virtual el miércoles 9 de marzo a las 5:30 p.m. Los asistentes a la asamblea ayudarán a definir la inspiración y las metas de las obras de arte, lo que servirá de base para el proceso de selección del artista.
"Este proyecto presenta una oportunidad única para crear un nuevo hito de referencia en Austin, el cual será disfrutado por futuras generaciones", dijo la administradora municipal asistente Gina Fiandaca, quien supervisa el resultado estratégico de movilidad de la ciudad. "Para nosotros es importante escuchar al público en este punto para asegurarnos de estar en camino a entregar el mejor proyecto posible".
Los planos para un nuevo cruce libre de tránsito automovilístico sobre el lado este del lago Lady Bird ha estado en proceso durante años. Un diseño de puente en forma de espoleta, que se conecta con la orilla en tres puntos, recibió una arrolladora preferencia durante un proceso de comentarios públicos realizado en 2019. La Ciudad publicó un Informe preliminar de ingeniería sobre el puente en forma de espoleta en 2020. Posteriormente ese año, los votantes de Austin aprobaron $15 millones en financiamiento para el proyecto del puente como parte del Bono de Movilidad de 2020. Desde entonces, el Programa de Senderos Urbanos de Obras Públicas de Austin ha liderado la fase de diseño del proyecto.
Los residentes pueden obtener más información y suscribirse para recibir noticias sobre el proyecto en el sitio web del proyecto: AustinTexas.gov/NewLHDBridge.