Celebrate LGBTQIA+ Pride Month with the the City of Austin Parks and Recreation Department at the Dougherty Arts Center (DAC) this June. Join friends and allies for a film screening that is out of this world, learn How to Primp Your Pet for Pride, and participate in a Pets and Pride Parade!


Codependent Lesbian Alien Seeks Same Film Screening on June 14
Love is love is love is love, even for space aliens! Join the Dougherty Arts Center (DAC) for a free screening of the film Codependent Lesbian Space Alien Seeks Same on Wednesday, June 14 from 7 p.m. to 9 p.m. Watch a visitor to Earth navigate the human dating scene in spirit of Ed Wood and other low-budget sci fi films. As you might guess, hilarity and romance ensue. Enjoy a popcorn snack before and after the screening. Registration is required, as seating is limited. Register on Eventbrite. It is free and open to the public! The film is rated PG and runs 75 minutes long.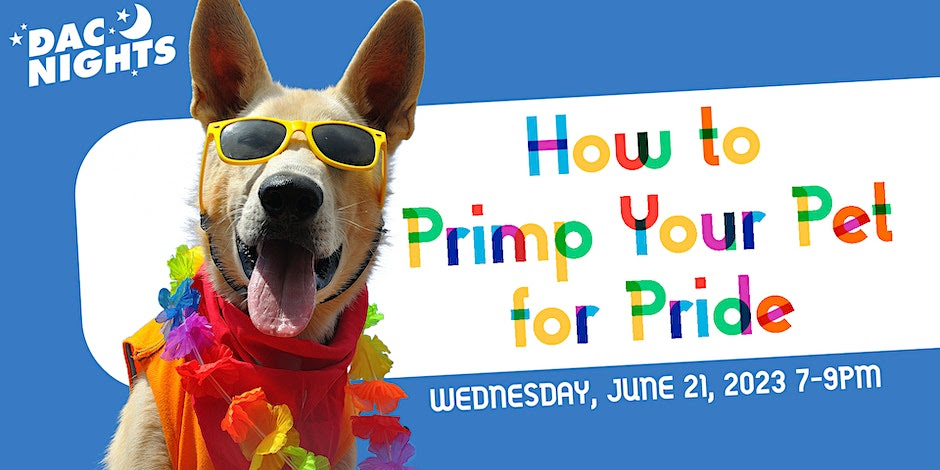 How to Primp Your Pet for Pride on June 21
Need ideas, inspirations, or guides on how best to pride up your pet? Look no further! In preparation for our Pride Pet Parade, DAC Nights is hosting a how-to to for glowing up for your pet on Wednesday, June 21 from 7 p.m. to 9 p.m. Supplies and crafting materials will be on hand to build or augment your pup's look. Groomers and stylists will lead quick tutorials for getting your cat's cowlicks to point the right way. And the DAC's resident theater technicians will guide you through the path your furry, feathery, or scaled best will take on our stage on Saturday. Registration is encouraged, but not required. Supplies and materials will be provided, but if you have specific ideas, we encourage you to bring your own materials. No pets will be allowed at this event. This event is free and open to the public! Register on Eventbrite.




DAC Nights: Pets and Pride Parade
Join the Dougherty Arts Center for a Pride Pet Parade on Saturday, June 24 from 1 p.m. to 4 p.m. Pet parents are invited to sign up their pet to walk the DAC stage in their best Pride presentations. Style up your pup, cat, lizard, or hamster with rainbows, glitter, and more to celebrate Pride with us! This event is free! Registration is required, as seating is limited. Register on Eventbrite.

If you want your pet to be in the parade, please register at tinyurl.com/DACPetPride. Registration is required to participate in the parade!

For more information, email DACTheater@austintexas.gov or visit AustinTexas.gov/DAC